Tri-City Medical Center San Diego
4002 Vista Way Oceanside , CA 92056
Tri-City Medical Center San Diego in Oceanside is a Gold Seal approved, full-service hospital that hosts two advanced clinical institutes for cardiovascular and orthopedic care. Featuring 388 beds and more than 700 physicians practicing in 60 specialties, the center has been serving North County residents since its opening in 1961. Community owned and operated, the hospital is a leader in robotics and minimally invasive technologies.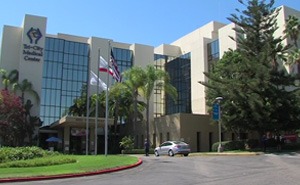 Tri-City Medical Center serves San Diego County's coastal communities of Carlsbad, Oceanside and Vista, and surrounding regions. The center has nearly 30 medical specialties, including an Orthopaedic and Spine Institute, Rehabilitation, Surgical Services, Imaging, Intensive Care, Emergency Services, Cancer Care (Oncology), Women's Health, etc.
Tri-City Medical Center has over the years attained a number of top honors and awards, including an "A" In Patient Safety from the Leapfrog Group; the American College of Cardiology Award for Cardiac Care; the Wound Care Facility of the Year; and the Designated Blue Distinction Center – Cardiac Care & Spine Surgery from Blue Cross/Blue Shield.
Dr. Payam Moazzaz is a resident spine surgeon at Tri-City Medical Center, where he specializes in conditions that include back pain, scoliosis, kyphosis, degenerative disc disease, complex spine disorders, neck pain, prior failed surgery, sciatica, and select spinal trauma. He is a premier San Diego spine surgeon.
Other Surgical Facilities