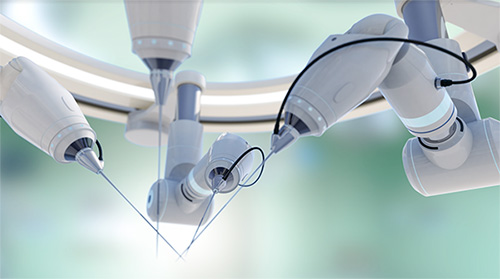 Robotic spinal surgery brings the highest level of precision, safety, and recovery for minimally invasive and open spine surgical options. Robotic surgery is a tool using artificial intelligence to assist surgeons in improving the accuracy of the surgeon's highly trained base of skills and knowledge. The purpose of robotic spine surgery is to leave you with less scarring, tissue and ligament trauma, infection risk, and a shorter recovery time.
Top 3 reasons to use robotic technology in spine surgery:
Smaller incisions - Surgeons who do not use robotic assistance may need larger incisions to get the job done, increasing the risk of infection. With robotic surgery, smaller incisions mean less infection risk and minimal scarring.
Less blood loss and muscle damage - Larger cuts make for an increase in damaged tissue and blood loss with conventional spinal surgery. The use of robotics in surgery allows surgeons to separate muscle tissues carefully without tearing them directly and decreasing the amount of blood loss, offering you a faster recovery time.
Precision and accuracy make for better patient outcomes - Robotics allows physicians to accurately and safely place spinal implants around essential structures like nerves with higher precision. Patients have shorter hospital stays and complain of less pain than traditional surgery.
The use of robotic technology in spine surgery improves the accuracy of procedures by eliminating the issue of instability in a surgeon's hand1. With the help of robotics, the exact programming of positions allows the surgeon to make accurate movements while operating in small spaces with or without hardware. The use of robotic technology enhances the surgeon's flexibility and control in the operating room.
Do not suffer from chronic spinal pain that does not improve with conservative nonsurgical treatments; schedule an appointment with Dr. Payam Moazzaz to determine if you are a candidate for robotic spinal surgery. Dr.Moazzaz is a leader in robotic spine surgery in California, performing 655 robotic spinal surgeries, helping you return to your active lifestyle with personalized spinal care.
Dr. Payam Moazzaz specializes in advanced minimally invasive spine surgery that enables successful returns to active lifestyles. For all appointments, please call (760) 904 5444.
1. https://www.uchealth.com/services/robotic-surgery/patient-information/benefits/