Spinal Cord Injury
spinal cord injury can be caused by a minor collision, impact or blow to the spinal cord, which can result in lifelong consequences for someone. G Static reports that about 200,000 people suffer from a certain level of spinal cord injury. At New Era Spine, Dr. Payam Moazzaz counts orthopedic surgery of the spine among his top medical specialities. And he is particularly astute at finding noninvasive procedures to treat their spinal cord injury or help them adjust to these serious, life-altering conditions.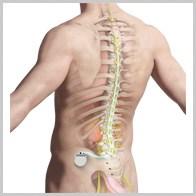 Understanding a Spinal Cord Injury
A spinal cord injury generally results in the phenomenon known as spine trauma. When the vertebrae are impacted to the point that they are jolted or shattered out of place by an impact, the fracture or dislocation can sever, pinch or pressurize the spinal cord and the nerves around it. Not all spinal cord injuries are a result of physical harm. A spinal cord injury also might be the direct result of a tumor or other disease that pressures or disrupts the function of the spinal cord. Remedying this condition is a job only for an experienced spine specialist like Dr. Moazzaz, a California physician who has accumulated more than a decade of professional experience in the orthopedic field.
Dr. Moazzaz recognizes the extreme severity of a spinal cord injury, which can result in a serious limitation of mobility or even full or partial paralysis; thus rendering spinal cord injuries among the most severe and life-altering.
While surgery is sometimes needed to remedy extreme instances of spinal cord injury, today's orthopedic patients have options. Whether they take the form of treatments, injections, medications, or therapies, Dr. Moazzaz will work to ensure that every patient knows those options–thus informing them of their fastest and easiest path to relief from spinal trauma.
Other Conditions