Minimally Invasive Spine Surgery
Minimally Invasive Spine Surgery Overview
The main objective when performing minimally invasive spine surgery is performed to relieve pressure that is causing the spinal nerves or spinal cord to fire with extreme pain and/or to stabilize the vertebral and spinal joints. The majority of the time, this pain is present as a result of conditions such as spinal instability, bone growth spurs, herniated or bulging discs, spinal tumors, spinal infections or scoliosis.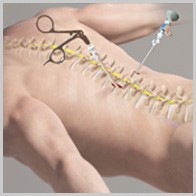 As opposed to open spine surgery, minimally invasive spine surgery is performed on a much smaller scale, consisting of a 2-5 inch incision on the back. These surgeries are much safer, faster and can be healed in much less time than open spine surgery. Minimally invasive spine surgery has many benefits compared to open spine surgery.
Potential benefits of minimally invasive back surgery are:
smaller surgical incisions
less soft tissue disruption and damage to spinal muscles
less blood loss
reduced risk of infection
reduced scarring
a reduction in post-operative pain
a shortened hospital stay
a faster recovery
Minimally Invasive Spine Surgery Risks
In minimally invasive spine surgery, most procedures only require the use of local anesthesia, which is less of a risk of someone having a reaction to general anesthesia. With all spine surgeries, no matter if it is minimally invasive spine surgery or open spine, there are certain risks associated:
Nerve or root damage
Bowel/bladder issues.
Spinal fluid leak or Dura Tear
Unexpected blood loss during the procedure
Infection, no matter how small the incision area
A possible buildup of fluid in the lungs, which can cause pneumonia
Vein thrombosis, due to blood clots forming in the legs of a bedridden patient
Persistent pain, little benefit from disc removal
The slight probability that the initial minimally invasive spine surgery cannot be finished once started, requiring either a second surgery or full open surgery.
Conditions Treated with Minimally Invasive Spine Surgery
Lumbar spinal stenosis
Spinal deformities such as Scoliosis
Spinal infections
Spinal instability
Vertebral compression fractures
Minimally Invasive Spine Surgery Procedure
In minimally invasive spine surgery, the surgeon makes the small 2-5 inch incisions to allow visualization of the operating field by retracting the tissues beneath the skin and exposing the spine. Once exposed, the surgeon performs the necessary reconstruction unique to each procedure. To compensate for this limited field-of-view, surgeons like Dr. Moazzaz who utilize robotic technology use fluoroscopy (X-ray) images to view their progress. He uses the Mazor X robotic device, where his patients benefit from high levels of accuracy and the advantages of minimally-invasive surgery. Independent scientific research has shown that minimally-invasive surgery with robotics lowers complication rates, reduces postoperative pain, and aids in faster recovery with a quicker return to daily activities when compared to regular freehand surgeries.
Other Specialities