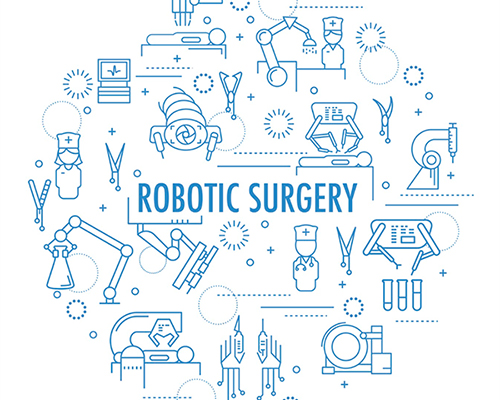 Every year around 1.34 million spinal surgeries are performed across the country. Approximately 644,000 of those are robotic-assisted surgeries1. Patients utilizing robot-assisted spinal surgery receive huge benefits, including less time in surgery, less radiation exposure, and less hospital time. Robotic surgeries allow physicians to accurately place spinal implants around nerves and structures with precision.
The difference between traditional surgery and robotic surgery is that a large surgical incision is cut with conventional surgery, affecting surrounding tissue and increasing patient recovery time and risk of infection. There is less blood loss, risk of infection, and recovery time with robotic surgery due to a smaller incision with less tissue cutting. Robotic surgery achieves the same surgical goals as traditional surgery but with more benefits to the patient.
One of the misconceptions surrounding robotic-assisted surgery is that the robot performs the surgery. That is not the case; the robot assists the surgeon during the procedure through high-resolution imaging that creates a road map for the surgeon placing spinal implants. It allows for accurate placement and information without the risk of human fatigue to get the safest procedure possible during your spinal surgery.
Patients can return home within the same day of their surgery, offering a much more comfortable recovery experience than traditional surgery. When having traditional spine surgery, the wound would be too large, and there would be too much tissue damage to manage on your own after surgery, keeping you overnight in the hospital, typically for a few nights.
Robotic surgery is a safer method than conventional methods and significantly increases positive outcomes for patients by getting them back to their active lifestyles2.
Dr. Payam Moazzaz is a board-certified orthopedic spine surgeon in California specializing in robotic-assisted minimally invasive spine surgery.
1https://www.cnsomd.com/treatments/robotic-surgery/
2https://www.polarisspine.com/blog/is-robotic-spine-surgery-safe#:~:text=Robotic%20surgery%20is%20actually%20safer,accuracy%20rat e%20of%2098.3%20percent.