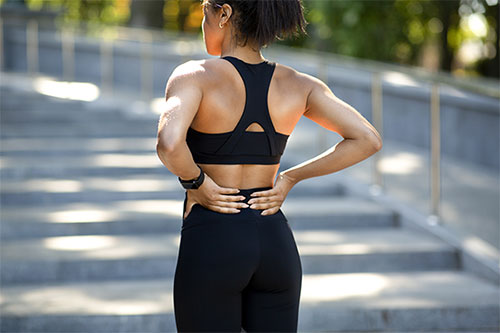 Did you know that 266 million individuals (3.63%) worldwide are diagnosed with degenerative lumbar disease yearly?1 Degenerative lumbar disease is a painful and chronic condition brought on by the deterioration of the lumbar spine that affects the vertebral bodies and intervertebral discs of the low back.
As osteoarthritis develops, bone spurs often form as the discs lose water content and shrink. These signs might indicate that you have degenerative lumbar disease:
Chronic back pain
Chronic leg pain
Tenderness at the site
Difficulty with walking and lack of balance or coordination
Weakness, tingling, or numbness of the legs
Degenerative lumbar diseases are treated with a combination of pain management techniques, physical therapy, and other approaches. In most instances, a combination of treatments are needed for effective pain management.
Treatments include :
Epidural Steroid Injections (ESIs)
Massage Therapy
Acupuncture
Heat and Ice
Prescription Medications
Over-the-Counter Pain Medications
Symptoms caused by a degenerated lumbar disc can vary widely, depending on how quickly or thoroughly the disc degenerates. If you suspect degenerative lumbar disease, speak with your doctor about your symptoms.
To receive a diagnosis of degenerative lumbar disease, an orthopedic specialist or surgeon will review your medical history and conduct a physical exam. Imaging tests will be needed to review the discs and the bony structures on your spine.
Dr Payam Moazzaz specializes in advanced minimally invasive spine surgery that enables faster recovery and return to active lifestyles. For all appointments, please call (760) 904 5444
1 www.ncbi.nlm.nih.gov/pmc/articles/PMC6293435/#:~:text=Epidemiological%20Findings,was%20in%20Africa%20(2.4 %25).