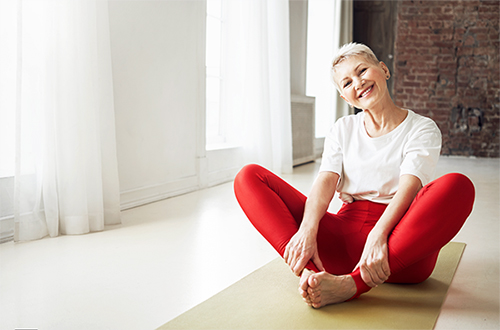 May marks Arthritis Awareness Month, a time to think about prevention, treatment and hope for a cure, for those suffering with this painful condition. Spinal arthritis is inflammation of the facet joints in the spine or sacroiliac joints between the spine and the pelvis, affecting almost 30% of all Americans.1
The symptoms of arthritis can occur anywhere along the spine, with pain and stiffness usually beginning slowly and progressing over time. There is hope if you are diagnosed with arthritis of the spine. In order to ease pain, improve spine function, and enjoy life to the fullest, there are ways to manage arthritis.
Tips for living with arthritis of the spine
Strengthening the back muscles with physical therapy
Medications to relieve pain and reduce inflammation
Losing weight and exercising regularly can improve back strength and flexibility
Healthy nutrition and a balanced diet rich in fruits and vegetables are important for managing arthritis and supporting your overall well-being
Acupuncture and massage can have healing benefits for those dealing with stiffness and pain
Quit smoking; it affects all tissues in the body and reduces the body's ability to heal, making arthritis more resistant to treatment
Surgical treatment to relieve pressure on the spine or the spinal nerves are an option when all non-surgical treatments fail
Several factors determine the treatment for spinal arthritis, such as the type and severity of the disease, the level of pain, and the age of the patient. In arthritis, pain management and preventing further joint damage are the main treatment options. Surgery may be recommended for spinal arthritis if other treatments don't sufficiently relieve pain. The goals of the surgery may include:
Spinal decompression and removal of bone spurs that may be pressing on nerve roots
A spinal fusion will stabilize the spine by fusing several segments together
In many cases, the symptoms of spine arthritis are managed with a combination of conservative, noninvasive treatments. With the right treatment plan, individuals with spine arthritis can live healthy and active lifestyles.
Dr. Payam Moazzaz treats adults for arthritis of the spine using non surgical techniques and minimally invasive spine surgery with robotic technology for better outcomes.
Dr. Payam Moazzaz is a board-certified orthopedic spine surgeon in California specializing in robotic-assisted minimally invasive spine surgery.
1https://www.hopkinsmedicine.org/health/conditions-and-diseases/spinal-arthritis