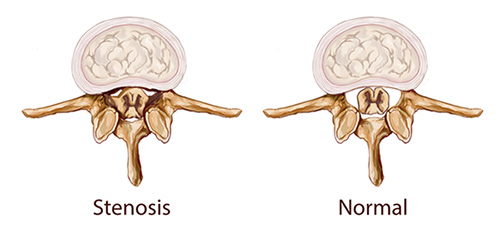 Chronic back pain can be an isolating and exhausting experience. Understanding where your back pain is coming from is an important step towards healing. Spinal stenosis is a painful but common condition that primarily affects us as we age. The American Academy of Orthopedic Surgeons estimates that spinal stenosis affects 8 to 11 percent of the population1.
Spinal stenosis is a narrowing of the spinal canal leading to compression of the spinal nerve root or the spinal cord. The spinal canal narrowing is typically a result of arthritis of the spine as the spaces between the vertebrae start to get smaller. The tightness can pinch the spinal cord or the nerves around it, causing pain, tingling, or numbness in your legs, arms, or torso. There are two types of stenosis: Lumbar and Cervical.
Top Signs of Lumbar Spinal Stenosis:
Pain in the lower back
Burning sciatica pain
Tingling or pins and needles in the leg or foot
Heaviness and weakness in the leg or foot
Bladder or bowel dysfunction called cauda equina can occur from severe nerve compression
Top Signs of Cervical Spinal Stenosis:
Neck pain
Pins and needles down the arm or tingling
Weakness in the arm and hand
Balance issues
Loss of mobility in the hands and fingers
Spinal stenosis usually develops slowly over time. Age-related changes in your spine are the most common cause of spinal stenosis. There are many treatment options for spinal stenosis including self-care remedies, physical therapy, medications, injections, and surgery.
If you suffer from spine pain, Dr. Payman Moazzaz can help. For all appointments and inquiries, please call (760) 904 5444.
Dr. Payam Moazzaz is a board-certified orthopedic spine surgeon in California specializing in minimally invasive spine surgery.
1. www.everydayhealth.com/columns/health-answers/baby-boomer-back-surgery-spinal-stenosis/